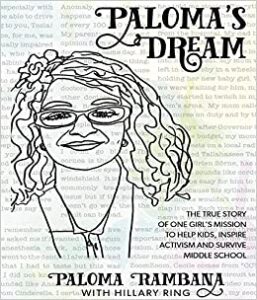 In just a few short years, Paloma Rambana of Tallahassee has accomplished so much it's hard to remember she's barely a teenager. At the age of nine, she helped successfully lobby the Florida Legislature for $1.25 million in funding for pre-teens with vision impairments. She's been named a Health Hero by O Magazine and one of the New York Times' 10 Kids Changing the World, as well as many other awards and recognition for her work. She's met the cast of "Hamilton" and received a birthday card from Lin-Manuel Miranda. She's also a published author; "Paloma's Dream: The True Story of One Girl's Mission to Help Kids, Inspire Activism and Survive Middle School" chronicles her journey through the past 13 years of her life, providing insight into what life has been like for Florida's "littlest lobbyist."
Just a few days after she was born, Paloma was diagnosed with Peters Anomaly, a condition that would have left her blind if untreated. Thanks to an iridectomy, a procedure that surgically creates new pupils, Paloma has some vision. She still relies on assistance from specialized equipment and has been working with her vision teacher since she was two months old. Through her lobbying efforts she is trying to address the funding gap for visually impaired children between the ages of six and 13; Paloma's parents have paid for her equipment and teacher since she was six, but she knows there are many other children like her who don't have access to the same resources. And while she did help secure $1.25 million to find the gap, she's still working hard on the remaining $8.75 million.
Paloma talks about her accomplishments – lobbying, advocacy, writing a book – with a blend of self-awareness, self-consciousness and just a tiny amount of amazement. She says seeing people connect with her book gives her so much joy because she didn't believe her story was unique, and she hopes it will remind readers that there is no such thing as an overnight success.
The Midtown Reader will host Paloma this Saturday, February 9, to talk about her book and about her writing process. Here's what she had to say leading up to the event:
Why write a book?
I think writing is a wonderful gateway to share ideas. I've always wanted to write stories; I didn't think it would be my story, but it's been wonderful.
What was the most valuable part of the writing process for you?
Telling my story took me on a trip down memory lane, finding things that brought me so much joy. It showed me where I went.
What should someone thinking about writing a book try NOT to do?
Don't second guess yourself, and don't wait until you think you have a better story or you don't have enough experiences to write about. Failure is necessary – if everyone published their first draft, the world would be terrible!
Best writing advice?
Embrace your failures. They're there to guide you so you don't repeat past mistakes.
This article was first published by Midtown Reader