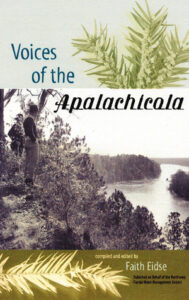 Faith Eidse is a natural-born storyteller; spend just a few minutes in conversation with her and you'll notice it, too. But what makes her even more special is the profound love and respect she has for the art of storytelling and the anthropological value of stories—the intrinsic need people have to tell and listen to stories.
Her own story is unique: she spent her childhood in the Congo with her three sisters and her parents. Her mother was "the second Mother Teresa," bringing the cure for leprosy to those remote regions, and her father was a linguist who translated the Bible into the local native tongue. And there were stories, like the time she and her sisters found a 12-foot python with a chicken-shaped bump in the front yard, and then watched as her neighbor cut it in half to retrieve the chicken—his—for his own dinner.
"Life itself will give you plenty of material," she laughed, when asked where her inspiration comes from.
Her book Voices of the Apalachicola is rich with real-life stories, carefully collected from those living on the Apalachicola River. Eidse spoke to many people whose lives revolved around the river as a resource, often in the nick of time. For instance, she spoke with the last Apalachicola steamboat pilot just a few months before he passed away; but for her, his story might have been lost to the ages. Eidse also interviewed the last Creek Indian chief in a line of succession more than 200 years old and a gentleman she called the Tupelo Honey Philosopher, who said he went into beekeeping after getting mixed up with the Mafia in Orlando.
While Voices and Eidse's two previous books are collections of true stories, she most recently published her first work of fiction, a novel set in a North Florida women's prison. After spending several years volunteering at correctional facilities in North Florida, she said she felt compelled to tell a different type of story.
"I wanted to talk about restorative justice, but in a storytelling way," she said. "There were so many women separated from their children…"
Eidse talked about the negative impact this separation has on both the women and their children and how restorative justice, which focuses on rehabilitation through reconciliation, would be such a step toward breaking the cycle of recidivism for these women and bringing families back together. While her novel is set in a fictional facility, everything in it is inspired by real events and real people she has encountered.
Life does, indeed, give storytellers plenty of material.
This article was first published by Midtown Reader.