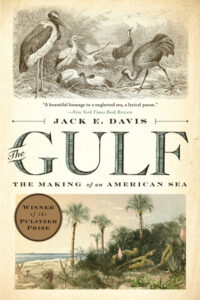 Jack Davis loves the Gulf of Mexico. In fact, he seems to love all coastal bodies of water, having grown up first in the Florida Panhandle and then in the Tampa Bay area. But the Gulf truly holds a special place in his heart; it's an affection that comes through clearly in his Pulitzer Prize-winning book, The Gulf: The Making of An American Sea.
"Writing this book was a labor of love," he told me. There was birdsong in the background of our phone conversation. It seemed right, since I was listening to him tell me why he felt compelled to write about this environmental, well, force of nature.
"When I realized no one had written a comprehensive history of the Gulf of Mexico, it shocked the hell out of me," he said. "It seems to me there has been a real historical amnesia and ignorance. I wanted to bring the Gulf into the American historical experience, where it belongs."
Writing the biography of a place presents different challenges than writing the biography of a person, Davis said. Without a clear chronology to follow, he struggled with the book's organizational structure. So, he took a unique approach: he wrote about the Gulf's many natural characteristics, weaving human stories into each section. Chapter 12 of the book was the first chapter he completed; it recounts the story of artist Walter Anderson and his relationship to the sea.
"I knew Walter would show me the way into the book and how to write it," Davis said, "and he did."
Davis also wanted to tell the story of the countless connections the Gulf has to every other part of our nation. For example, the white sugar sand on the beaches in Northwest Florida comes from quartz on the top of the Appalachians, slowly eroded and brought south by the wind, rain and rivers flowing to the Gulf. This is the type of connection Davis loves to tell his readers about, celebrating the Gulf's unique impact.
It's fitting that The Gulf won the Pulitzer, just months before Hurricane Michael devastated the book's namesake area. Davis said he hopes the book will finally bring the Gulf some of the respect it deserves, along with more positive, focused attention—something the area desperately needs right now.
"I have hope for the future of the Gulf," he said. "The love for the Gulf is evident everywhere; people are so excited this story is finally being told."
This article was first published by Midtown Reader.