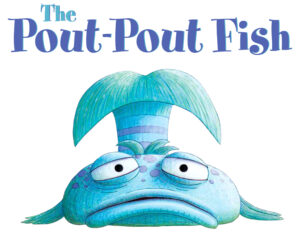 More often than not, the books we read as adults are unillustrated (and what a shame!). But children's books still incorporate the magic of imagery, and The Pout-Pout Fish series is no different. And picture books have always been important to Dan Hanna, the illustrator of the famous Mr. Fish.
"When I look back on my life and the decisions I've made, I've come to realize the picture books I saw as a child have affected me deeply," he said. "Children's books, I think, are the most powerful books in the world. They plant seeds that play a big part in who you become."
Hanna's art in the books is instantly recognizable, and he explained that the main character is based on a real fish he encountered on a scuba diving trip in Fiji.
"There was a pudgy little fish about the size of my fist. I swam right up to him, just inches from his face, and he stared right back at me with his big pouty lips," he said. "Little did I know that funny fellow was destined to become Mr. Fish, the main character from the books."
Perhaps one of the reasons Hanna's style is so distinctive is the time and effort he spent refining it. His goal, he said, was to develop a style that looked different than what he'd been seeing in other picture books.
Now, when he gets a new manuscript from author Deborah Diesen, he works to create images that are, in his words, "rich and detailed enough so the reader stands a good chance of seeing something new if/when they revisit the book." He also never communicates directly with Diesen during the entire process; their editor acts as an intermediary.
He may not talk to Diesen during the illustrating process, but he said one of the most surprising things about illustrating the stories is how easy it is to start talking to himself…and what great conversations he's had.
His path to becoming a children's book illustrator was somewhat circuitous; he attended college first for film and then switched to computer science. After college he started working with computer graphics and eventually saved enough money to go back to school at CalArts for a degree in Experimental Animation. Ten years later, the company he was working for went out of business so he decided to reach for his dream: children's books.
Perseverance was key to the journey. It took over five years of writing and illustrating his own stories, submitting them to publishers and getting rejected before he finally got the Pout-Pout Fish job. Hanna also said it's important to have faith in your own abilities, and that's it's perfectly ok to listen to criticism and advice from people without following it.
"Try things, fail, make mistakes and learn! Be adventurous and fearless," he said. "Oh, and open up a Roth IRA account as soon as possible and contribute to it as much as you can."
This article was first published by Midtown Reader.